Books
There's nothing better than holding a paperback! Here's the list of books written by Stephanie Dolce  You can go to the shop page to purchase the latest books directly. To purchase the older books, scroll down to the bottom and hit either one of the three links.

NEW RELEASE:  "Relationship Impossible" is available NOW
What people don't realize about dating apps in general is that you need a lot of swipes to get a match, a lot of matches to get a number, a lot of numbers to get a date and a lot of dates to get a third date.
Dating sites are good at baiting people to try them out. They lie about how many active members they truly have, use fake profiles….. But, remember, just because it is popular, doesn't mean it actually works!
Check out the SHOP page to purchase DIRECTLY from LULU – NOT AMAZON!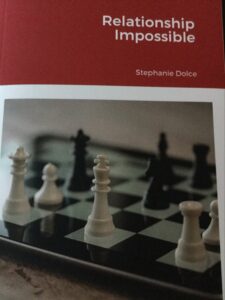 A Birds Eye View
This novel is taken from my experiences, from other people's experiences, and from any thought-provoking idea that crosses my path. Throw in how Television, radio, and even sports plays a role in how we live our lives and you got yourself a very interesting take on love, relationships, and the American obsession with the Celebrity world. So ask yourself, "Do fairy tales really exist or are we kidding ourselves by believing that we all will someday find that "happily ever after" ending in our lives?" And after you ask that question, read A Bird's Eye View and find out.
Sex, Lies and Twitter
Welcome to Twitter: the place where cheating on your significant other, bullying others, and more will come true! With Social Media taking over practically everyone's life it seems, are we safe online? How can we make sure that our children let alone ourselves, not only feel safe but our lives aren't torn apart because of our Twitter Obsession? Sex, Lies, Twitter is the detailed tell all of my experiences with the social site and how I feel things need to change so what happened to me, never happens again.
Victim No More
Thanks to social media, our lives will never be the same again. Period. Ten years ago, no one knew what the phrase "social media" was, let alone how it would impact our lives. Just like when you take vows for better or worse, social media has had its fair share of better, best and worst moments. This book tells the true story of how social media has turned our life upside down, tips for parents on how to help curb cyber bullying, and sheds some light as to how social media is really viewed by companies & professionals.
Hello Love, Where's Cupid? 2nd Ed
"Hello Love, Where's Cupid? 2nd ed" was nominated for book of the year for Writer's Digest AND Rockland County Book of the Year in 2016.
Here is what a judge from Writer's Digest said about "Hello Love, Where's Cupid? 2nd Ed"
"Congratulations on writing and publishing your book! It is quite an achievement to have reached a second edition of a book. The front cover design is very attractive and I loved the unusual size and shape of your book. The Table of Contents lays out the book's content clearly. You include a lot of great practical advice and I enjoyed your conversational writing style. In general you have done a good job with grammar. You have an extensive online presence, and in particular your blog should help continue to increase potential readers' awareness of your writing."
In, "Hello Love, Where's Cupid?" 2nd Edition, Author, Stephanie Dolce, will give readers: Ten rules of how to make your first date memorable, Seven reasons why most people are still single and how to avoid those, Step by step guidance of how to make your sex life better and groundbreaking evidence that points to how online dating sites feed people lies that they will indeed find their " dream love," but instead invite nightmares at their doorsteps. There is also a discussion on feminism and on domestic violence.
The Diary Of A Drama Queen
The Diary of a Drama Queen, is the new soap-opera- starring people you actually know! There's the airing out all their dirty little secrets! Between Maddy Ware trying to ruin Cindy Rossini forever, the secret that Cindy reveals about Maddy and the love affair between student/teacher, it's a drama-filled life in this small town. Oh, and there's something about how one mystery man who can change Cindy's life forever! The Diary of a Drama Queen is edgy and controversial Napoleon once said that secrets travel fast in Paris. But at the Hans Christian Academy, they travel a lot faster.
My Tiara Is Giving Me A Headache
Kellie Harrison thought she was about to have it all, including Parker Bradley. But something happens that changes her life forever. How will Kellie handle being at the center of a scandal?
Amazon Exclusive!!!  
Untouched
We met Kellie Harrison in the mini-series, "My Tiara Is Giving Me A Headache!" Now, in "Untouched," We learn more about who Kellie is but now a year later she is about to embark on finding out who she really is and what life is all about: adventures, men, and sexuality.
A Cat's Diary 
A humorous take on owning a cat and the difference between cats and dogs. An Amazon exclusive!
A Cat's Diary Continues
We continue with a cat's diary- an Amazon exclusive!
A Cat's Diary Paperback ONLY (Covid 19 edition)
The Paperback edition of A Cat's Diary and A Cat's Diary Continues with Covid 19 edition added to this exclusive paperback edition for Lulu.
Love At First Bite
Stephanie Dolce has taken her love for desserts and her Facebook page, Clever Cakes and Crafts to paperback! In here, you will see all Stephanie's hacks she has used for some of the recipes she has created and used over the years. She even has taken her tailgating recipes that she has used to watch her beloved New York Jets. (some are no-bake!)
Unfriended, Blocked and Hated: Social Media and the 2016 Election. 
The 2016 election was one for the ages… and social media played a major role in it. From friends ending relationships to getting into arguments that lasted for days. The 2016 election will go down in history in one way or another.
PLUS there are some surprises that you can find at Lulu.com 
You can follow me on Goodreads
You can follow me on Amazon and see all the exclusive books