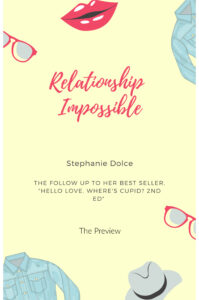 If you don't follow my blog, "Stephanie's Corner" then you haven't seen the 2 blogs that were posted with the preview of my upcoming book, 'Relationship Impossible"
Here is part 3:
But let me warn you on this note, being alone and being lonely are not the same thing. And nothing is as unhealthy and dispiriting as being in a bad relationship.
This is another reason why dating apps are not good for mental health as well as your physical health. First and foremost, A group of psychologists in the Netherlands have discovered that we have a tendency to gradually close ourselves off when dating online. In other words, the more dating profiles people see, the more likely they are to reject them. The study shows that the endless stream of options can increase feelings of dissatisfaction and pessimism about finding a partner, which in turn leads to rejecting potential mates. Thanks to Dating Apps there are more possibilities to meet new partners than ever before, yet at the same time there have never been more people single in western society. This could be simply because the study found that both men and women tend to focus on the picture more than any other part of the online dating profile, but women view each profile for a longer amount of time than men do. Women spend an average of 84 seconds on each profile while the men spent an average 54 seconds on each profile.
The male participants made more snap judgments based on a photo, while the female participants displayed a more methodical approach to online dating. But sadly other studies have shown that depression symptoms and social anxiety are associated with greater use of mobile dating applications among women. If men are judging the women on these apps by appearance, and some women are not "appearing" attractive, then they are not getting too many "swipes." This is due to the fact that socially anxious people tend to avoid asking others out on dates, fearing that they will be rejected or be negatively evaluated.
Stuck at home, due to the pandemic, dating has become an endless scroll, sifting through hundreds of pictures and profiles. Not only does this lead to more depression and anxiety, it leads to massive social problems across the board when it comes to dating apps. For starters, dating experiences can differ widely based on a person's gender identity and sexual orientation. A single man may say his biggest worry about online dating is meeting a catfisher, while a single woman may say her biggest worry is being sexually assaulted or harassed.
Stay tuned for Part 4….
Why would someone who experienced sexual assault wait years to [...]
The free-for-all atmosphere can be particularly overwhelming to the average [...]